Many people are unaware of the health consequences of climate and change and still view this issue as a purely environmental concern. Further, climate change is a complex and often politicized issue, which can make conveying this information to patients, the public, colleagues, and policymakers difficult for health professionals. Research has shown that fear-based communication on climate change is not effective in getting the public to care about this issue. With that there has been a shift in talking about climate change as a scientific issue to focusing on the health and social benefits of climate change.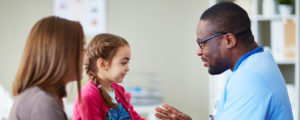 The leadership of health professionals to increase awareness and elevate action on climate change is urgently needed. The health and medical community is uniquely positioned to advance the message that climate solutions are a health priority. However, many health professionals may not be aware how to effectively communication about climate and health. Learning how to incorporate the connection to health in climate communications is essential to driving change throughout organizations, communities, and the United States. As the largest health profession and most trusted profession, nurses can be influential in conveying this message. Here are some tips to help nurses effectively communicate and engage with others, increase awareness, and motivate the health community, the public, and policymakers around climate change.
What can Nurses Do?
In developing message and communication strategies, it's important for nurses to start by identifying your personal connection to climate change and health and then to craft your story. Crafting your story includes writing down your thoughts on why you decided to lead on climate solutions. A particularly effective format for public narrative includes the stories of "Self, Us, and Now" developed by Marshall Ganz. This will help prepare nurses when discussing climate change with leadership, fellow nurses and colleagues, and the public. After preparing, the ne
xt step is to join the conversation. Make sure to include climate change and health in communications with patients, colleagues, institutional leadership, and elected officials. Lastly, talking with other nurses about how climate change relates to health and how they can take action will help inspire  and empower nurses, moving the profession forward in leading on climate change.
Nurses Leading the Way
Nurses are joining the conversation to increase awareness on the health impacts of climate change:
Patricia Butterfield

, dean emerita and professor at Washington State University College of Nursing, as part of National Public Health Week, joined deans of nursing from Johns Hopkins University, the University of Pennsylvania, New York University, Emory University and the University of Maryland in a roundtable discussion with senior White House administration officials to discuss educating health leaders on the impacts of climate change.

ANHE and representatives

from 17 other national nursing organizations participated in a White House hosted roundtable discussion on the critical importance of fighting climate change to protect public health. 
Additional Resources
ecoAmerica in partnership with the American Public Health Association developed a four-part webinar series, called Making the Connection: Climate Changes Health, where experts in four different fields discuss the ways in which climate change affects the health of communities worldwide.
ecoAmerica Guides discuss research findings that can be utilized for effective climate conversations.
Climate Talking Points: Tips for opening the discussion, positive talking points, and some responses to key questions or criticisms around specific topic areas.
Let's Talk Climate & Health Communications webinar: Founder and CEO of ecoAmerica Bob Perkowitz provides nurses with communication tools, such as message framing and tested language, to help cultivate an effective voice.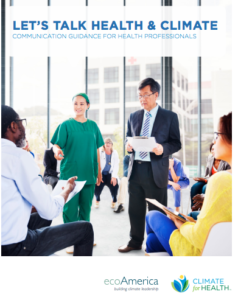 Climate for Health's communications guide, Let's Talk Health and Climate, combines values research, communications, and specific messaging into a single resource, so you can learn how to create messaging that resonates with the health and healthcare audience.
Various communication tools, talking points, and resources from Climate for Health on how to effectively engage others on climate change.
George Mason University's Center for Climate Change Communication conducts communications research, helps various organizations improve public engagement initiatives, and trains students and professionals on public engagement with climate change.
Yale Program on Climate Change Communication provides in great detail research on the public awareness and understanding on climate change and provides tested climate messaging data.
See Public Perceptions of the Health Consequences of Global Warming report.
See the Yale Climate Opinion Maps where users can visualize and explore differences in public opinion about global warming in the US through interactive maps.